Apartment Therapy is a leading home and design blog. With a mission to help people make their homes more beautiful, healthy and organized, Apartment Therapy believes that a calm, healthy, beautiful home is a necessary foundation for happiness and success in the world. Their goal of connecting people to the resources they need to redecorate their home is accomplished by providing access to news, reviews, inspiration, an interactive community and more. For more information, visit Apartment Therapy at .
California Home + Design

From tile to toile, California Home + Design magazine is the definitive source for the best in California design and a must-read for industry leaders, upscale homeowners, and design enthusiasts. California Home + Design is proud to support RugMark. To subscribe, visit www.chdmag.com or call.
Conscious Living

Conscious Living™ (www.ConsciousLivingTV.com) is a mainstream lifestyle TV show that entertains viewers with practical tips and fun adventures on the latest and greatest in conscious, healthy living. Tune in to Conscious Living for the best in "green" home makeovers and fashion, alternative healing, and four-star eco-travel around the planet. With Conscious Living, get a taste of the good life—and learn how to make every day fun! To watch Conscious Living, visit www.ConsciousLivingTV.com.

Dwell

Dwell is committed to the coverage of sustainable architecture and design. We believe the goal of modern design should be ultimately, to make green "normal"--in other words, to make sustainability an integral part not just of design but of every day life. For more information on Dwell or to subscribe: www.dwell.com.
Inhabitat

Inhabitat.com is a weblog devoted to the future of design, tracking the innovations in technology, practices and materials that are pushing architecture and home design towards a smarter and more sustainable future. For more information, visit www.inhabitat.com.
Interior Design

With a print circulation of more than 76,000 and over 170,000 monthly unique visitors online, Interior Design offers an unparalleled level of design-hungry readership. Each month, the magazine features a variety of outstanding projects, the latest new products across all disciplines, industry news and more. For more information visit www.interiordesign.net.
Modern Luxury

Modern Luxury is the leading publisher of the finest regional luxury lifestyle magazines in America. Catering to the affluent and savvy, our magazines capture the smart metropolitan lifestyle of some of the nation's most trendsetting communities: Atlanta, Chicago, Dallas, Honolulu, Houston, Los Angeles, New York, Orange County, San Diego, Napa-Sonoma and Washington D.C. To learn more, visit www.modernluxury.com.
Skoll Foundation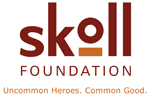 In 2005 the Skoll Foundation awarded RugMark USA a Skoll Award for Social Entrepreneurship of $440,000 over three years for core operating support linked to increasing consumer demand for rugs made in accordance with humanitarian standards. Skoll funding is helping RugMark USA launch a brand recognition campaign called "The Most Beautiful Rug" that will present retailers with market data showing that consumers want rugs that are certified as being made without child labor. The long-term goal of the campaign is to have certified rugs account for a 15 percent market share in the United States by 2012, thus emancipating as many as 300,000 children from forced labor.
"Rugmark USA has made remarkable progress in raising the consumer awareness needed to combat child slavery in the carpet trade, but the battle is far from won," said Sally Osberg, President and CEO of the Skoll Foundation. "We recognize the need to support a large-scale campaign to persuade major importers and retailers to make certified rugs available in more locations and to motivate more consumers to buy them."
The Skoll Foundation advances systemic change to benefit communities around the world by investing in, connecting and celebrating social entrepreneurs—individuals dedicated to pioneering new solutions that result in lasting improvements to complex social problems. For more information, visit www.skollfoundation.org.
Western Interiors

Western Interiors & Design is the only national magazine devoted to showcasing the trendsetting architecture, fresh design and lifestyles of the West, setting the pace for the rest of the country. The magazine is a national bi-monthly publication with a rate base of 250,000 and a total audience of 1.65 million people. For more information on Western Interiors & Design or to subscribe, visit www.westerninteriors.com.
For more information or to become a sponsor click here